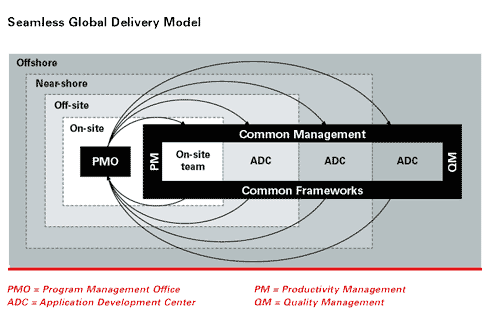 Doing IT right, ON-Time
Doing it the right way, is no excuse for missing the deadline. We are highly focused and result oriented. Our success lies in the success of our clients. We strive for customer satisfaction through honesty, personal accountability, get-it-done attitude and long-term relationships.
We listen to our clients and act in the best interest of our clients by advising and providing the best possible solutions to them.
Time Proven Seamless Global Delivery Model
High Quality- Low Risk- Maximum Flexibility
We serve the needs of our customers with a blended strategy that spans on-site, near shore and offshore delivery. Client can dynamically tune work distribution to meet their cost, delivery and risk-objectives – resulting in the optimal sourcing solution.
All AAT's outsourcing projects are supported by world-class practices in program and project management and quality assurance. This gives our clients significant advantages over other industry approaches:
Accountability: Clients have a single point of accountability for all project efforts, no matter where they are executed. Projects are managed through local, on-site personnel, typically through a Project Management Office (PMO).
Predictability: We ensure consistent high-quality performance through the use of common processes, management disciplines, methodologies, and metrics.
Flexibility: Clients fluidly allocate work across delivery options to support changing business requirements.
Stability: If the geopolitical events demand, we can move client projects to more stable venues – across the U.S. and India.
Quality: Our Indian facilities are ISO 9001:2000 certified. Our facility in India is Capability Maturity Model Integration (CMMI) Level 5 certified.
Responsiveness: Support levels can be quickly tailored to any requirement; resources are available when and where needed.
What's the right mix for you?
If you would like to learn more about how we can help you meet your sourcing goals, Let's Talk: